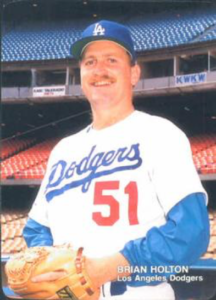 The last few years the Dodgers have raised Angelino's hopes of a World Series championship, only to break our hearts by losing early in the playoffs. This year's team seems determined to make up for shattered dreams. The Dodgers racked up the best won-loss record in baseball, swept the Diamondbacks, and mowed down the mighty Cubs to move on to the World Series for the first time in twenty-nine years.
I have fond memories of the Dodgers' last World Series run because of one player on that team. A big part of the 1988 Dodgers' success rested on the right arm of a journeyman twenty-eight year old middle reliever. If you mention his name in baseball circles today, even among die-hard Dodger fans, you'll likely draw a blank stare, but I remember him well, because he met with my Little League team early in the 1988 season before anyone thought the Dodgers would win their division, much less the World Series.
That meeting found its origins in 1981. I was an associate in a corporate law firm. My ambition to excel consumed me. I gave lip-service to balancing work and home life, telling myself my family came first, but that was a lie. My career came first. Always.
Then my five-year-old son fell prey to a rare disease. By the time the doctors diagnosed it correctly, his condition was critical. He and I moved into a children's hospital and spent ten days there. He pulled through and made a full recovery, thank God. At the time, I thought those horrific days were the worst of my life, but they turned out to be transformational, teaching me a hard lesson I couldn't seem to learn any other way.
Before my son got sick, I got a letter from the AYSO, requesting volunteers to coach. Too busy, I told myself. I'll do it next year. But at the children's hospital I met parents whose kids wouldn't live to see a next year. I'd been blessed with a second chance they wouldn't receive. I couldn't waste it. From there on, I coached my kids in sports and spent more time with my family. Don't get me wrong. I was still crazy to succeed. It was, and still is, my personal demon. I didn't always make the right choices after that scare, but I struck a more reasonable balance.
That balance was the reason I coached my son's Little League team in 1988. After their last game, I took the kids to a Dodgers game. One of my friends, a Dodgers executive, agreed to set up a meeting for them with a player, but he couldn't guarantee who would be available until we arrived.
The night of the game, my friend ushered us down to a box behind home plate and introduced us to Brian Holton. After toiling in the Dodgers' minor league system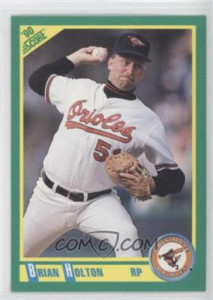 for seven years with little success, he'd finally made the team in 1987, and he'd pitched well enough to hold his spot on an awful Dodgers team that finished fourth in its division.
When we met with Holton early in the 1988 season, he'd only made a few appearances that year, and I'd never heard of him. I was disappointed at first, but the kids were thrilled to spend time with a big leaguer, no matter who he was, and Holton turned out to be a good choice. He didn't say anything profound or inspiring, but he had an easy way about him and he seemed flattered, and a little surprised, that the kids looked up to him.
I followed Holton in the sports pages after that night. As the season wore on, his name showed up more frequently in the box scores, always in the middle innings. The press generally overlooked middle relievers back then, so he didn't get much publicity. Very quietly, he pitched 84 innings that year with a 1.70 ERA, and he closed the season by posting 17 consecutive goose-eggs on the score-board.
The Dodgers played the New York Mets for the NL Championship. The Mets had beaten them 10 out of 11 games during the season, so no one thought the Dodgers had a chance. Game 4 was pivotal. The Mets were winning 4 to 2 in the sixth inning with Gary Carter on third with no outs. Tommy Lasorda pulled the starter, John Tudor, and brought in Holton. In televised close-ups he looked nervous. I was, too, as I watched him, but he struck out Tim Teufel, walked Kevin Elster, and got Doc Gooden to hit into a double play, miraculously keeping the Mets from adding to their lead. He blanked the Mets in the seventh inning and left the game. In the ninth, Mike Scioscia hit a two run homer, tying the score, and Kirk Gibson won it with a homer in the twelfth. Most Dodger fans remember the heroics of Scioscia and Gibson, but Holton's forgotten shutdown pitching is what got them there.
When the league suspended the Dodgers closer, Jay Howell, for three games in that series, I thought they were done, but Lasorda turned to Holton to close Game 5 and he got the save. Amazingly, the Dodgers took the Championship from the Mets, 4 games to 3, and moved on to face the Oakland Athletics in the World Series.
Odds-makers cast the Dodgers as the underdog again. In the bottom of the ninth inning of Game 1, the A's were up 4 to 3. With two outs, Mike Davis walked. Lasorda pinch-hit Kirk Gibson, who limped to the plate on crippled legs and proceeded to poke Dennis Eckersley's back door slider into the right field bleachers to win the game. Many Dodger fans consider that homerun the most exciting moment in Dodger history, but in my view, the real heroes of that game were the Dodgers' relievers.
The starter, Tim Belcher gave up four quick runs, and Lasorda took him out in the second inning. Three relief pitchers shut out the A's through the next seven. Holton blanked the Mets in the sixth and seventh. When he left the game, the score was 4 to 3, setting the stage for Gibson's two run walk-off homerun.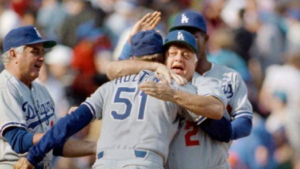 The Dodgers went on to win the World Series 4 games to 1.
After such a great season, I thought Holton would be a mainstay in the Dodgers' bullpen for years to come, but one month after their World Series victory, the Dodgers traded him to Baltimore.
He was never the same after that, pitching two lackluster seasons for the Orioles and two more in the minor leagues. He gave up baseball at age 32, and disappeared from public life.
The sports columnist, Bill Plaschke, tracked him down in August. His column recounted Holton's 1988 unrecognized season heroics and told his life story since then: http://www.latimes.com/sports/la-sp-holton-dodgers-plaschke-20170812-story.html
It's a sad tale. Holton felt he had failed as a player, and it broke him. Addiction to alcohol and pain medication. Divorce. Jailed over child support. Then homeless for a time. Now, 57 and unemployed, he lives in Wisconsin with a friend, Kathleen Wells, who's nursing him through two knee replacements.
His advice to this year's Dodgers players is telling: "Slow it down. Keep it. It's magic. And then it's gone."
His friend, Wells, says, "He hit the big time, then he had it taken away. I just hope he's on the way back."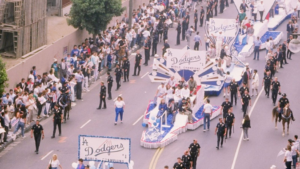 Reading the article, I kept seeing young Brian Holton surrounded by my team of twelve year olds, a nice guy, fit and trim, a shy grin on his face, still brimming with promise, and I thought yet again about how lucky I was in 1981 to learn my lesson without having to pay a price that would have broken me.
So I wrote Holton a letter, sent it to Plaschke, and asked him to forward it. I thanked Holton for doing a good job in the meeting with my team and for his clutch pitching in the middle innings. My letter is thirty years late and comes from someone he couldn't possibly remember, but maybe it'll help his recovery in some small way. At 57, he's still got time, and like Wells, I hope he's on the way back.
Meanwhile, the Dodgers face the mighty Astros this week. I hope my friends in Houston can maintain a rational perspective about this series. Keep cool. After all, baseball's only a game. It's really no big deal who wins as long as it's the Dodgers.