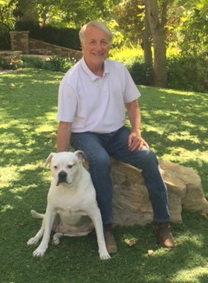 Ken Oder was born in Vir­ginia in the coastal tide­wa­ter area near the York and James Rivers, where mil­i­tary instal­la­tions dur­ing World Wars I and II fueled the growth of urban cen­ters like Nor­folk, Hamp­ton, and New­port News. His father worked for the Navy Mine Depot in York­town and lat­er as a Hud­son deal­er until he heard his call­ing and became the min­is­ter at Mount Mori­ah Methodist Church in 1960. The fam­i­ly moved to White Hall, Vir­ginia, a farm town of about fifty peo­ple at the foot of the Blue Ridge Mountains.
The moun­tains and the rur­al cul­ture were a jar­ring con­trast to the busy coastal plains, but once the shock wore off, Ken came to love it there. He found the moun­tains and hol­lows spec­tac­u­lar­ly beau­ti­ful and the peo­ple thought­ful, friend­ly, and qui­et­ly coura­geous. White Hall became Ken's home, and his affec­tion and respect for the area and its peo­ple have nev­er left him.
Ken and his wife moved to Los Ange­les in 1975, where he prac­ticed law and served as an exec­u­tive until he retired. They still live near their chil­dren and grand­chil­dren in Cal­i­for­nia, but a piece of Ken's heart nev­er left White Hall. That place and time come out in his stories.