My dad was born 100 years ago on this day in 1918 in Appo­mat­tox, Vir­ginia, near the McLean house where Lee sur­ren­dered to Grant a half cen­tu­ry ear­li­er.
He had a pret­ty rough child­hood. His par­ents divorced when he was a baby and he grew up bounc­ing back and forth between them.
His moth­er caught tuber­cu­lo­sis when he was in grade school. After his death, we found a tin box in his bed­room with let­ters she sent him from the hos­pi­tal, try­ing to put a bright face on her con­di­tion. She told him how much she missed him and promised they'd be togeth­er soon. She died when he was twelve.
He grad­u­at­ed from high school dur­ing the depres­sion. There were no jobs in Appo­mat­tox, and severe asth­ma dis­qual­i­fied him from mil­i­tary ser­vice. The mil­i­tary instal­la­tions in Virginia's tide­wa­ter area were hir­ing in the run-up to World War II, so he moved to York­town and got a job in the Navy Mine Depot's main­te­nance depart­ment.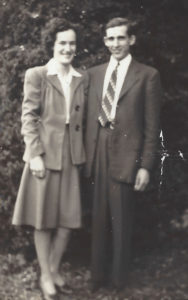 Mom worked there, too, and Dad fell for her. She was sev­en­teen when they eloped, run­ning across the state line to North Car­oli­na, which didn't require her par­ents' con­sent to tie the knot.
Mom tele­phoned her father (my Papaw) in the mid­dle of the night and broke the news. At my par­ents' six­ti­eth wed­ding anniver­sary cel­e­bra­tion, I asked my uncle, her old­est broth­er, how that call went down. He said Papaw looked like he want­ed to kill some­one.
That some­one was Dad, I guess, but I nev­er saw any evi­dence of Papaw's hard feel­ings. Dad's tough child­hood left him inse­cure and anx­ious, but Papaw always encour­aged him. "You can do any­thing if you've got Willy on your side," he used to say to Dad. "Willy" was will pow­er.
With Willy on his side, Dad left his job at the Depot and opened his own Hud­son car deal­er­ship, where he found his first great pas­sion, sell­ing cars. He sold so many Hud­sons that the Hud­son Com­pa­ny want­ed to lever­age his tal­ent by mov­ing him to Hager­stown, Mary­land, to man­age a much big­ger deal­er­ship.
Mom agreed to the move only if Dad promised to go to church in Hager­stown. He had stead­fast­ly refused to attend Sun­day ser­vices up to that point, but he caved in to her demand and we piled every­thing we had in a mov­ing van and head­ed up there.
At first, Dad groused every step of the way to the Church of the Light­ed Win­dow, but a few months into it, he stopped com­plain­ing. A year lat­er, he became the church lay leader. Soon after­wards, he went on a week­end reli­gious retreat where he found his sec­ond great pas­sion, this one so all-con­sum­ing that it turned our lives upside down.
When Dad came home from the retreat, he dropped his suit­case on the floor, beamed at Mom, and announced, "Hon­ey, I'm going to be a preach­er!"
Shocked and not so pleased, Mom said, "But all I want­ed you to do was go to church."
The keynote speak­er at the retreat was a Methodist bish­op with Parkinson's dis­ease, who spoke about his life of ser­vice. At the end of his talk, the bish­op raised his hand and called to the altar those who want­ed to com­mit their lives to Christ. On his death bed fifty years after the event, Dad said he could still see the bishop's pale palsied hand flut­ter­ing in the air like the bro­ken wing of a white dove. That hand grabbed him by the heart and called him to preach the Word.
A car sales­man in his mid-thir­ties with a wife and three sons, no edu­ca­tion beyond high school, and no way to pay for col­lege and sem­i­nary, he was an improb­a­ble can­di­date for the min­istry. The only path to the pul­pit open to him was a long hard slog through a seem­ing­ly end­less swamp of cor­re­spon­dence school cours­es while he worked full-time sell­ing cars.
He spent five years study­ing course mate­ri­als he received in the mail, tak­ing tests and writ­ing essays, and send­ing them back to the course admin­is­tra­tors for eval­u­a­tion. In 1960, the Methodist Church final­ly accept­ed him pro­vi­sion­al­ly as a "sup­ply pas­tor." That sta­tus enti­tled him to be con­sid­ered for assign­ment to a church only after all the ful­ly qual­i­fied min­is­ters had been giv­en a post.
In 1961, the Methodist hier­ar­chy gave Dad his first appoint­ment, a four-church charge known as the Albe­mar­le Cir­cuit, two church­es with 100 mem­bers and two with less than 50, and we moved to White Hall, Vir­ginia, a rur­al town at the foot of the Blue Ridge moun­tains.
I thought Dad would almost cer­tain­ly fail. He had no for­mal train­ing in pub­lic speak­ing or coun­sel­ing, and the work­load was crush­ing.
The first Sun­day we were there, he met with a young sin­gle moth­er who was sui­ci­dal because her hus­band had been killed in an acci­dent. Dad moved her into the par­son­age, and she lived with us for a week. She was in her six­ties the last time I saw her.
Menin­gi­tis killed the infant of a young cou­ple. He brought them through their grief, and they went on to have four more chil­dren.
A man in a posi­tion of trust molest­ed a teenage boy, plung­ing him into chron­ic depres­sion. Dad helped him heal his wounds and move on with his life.
These are the ear­ly sto­ries. Hun­dreds more fol­lowed.
After attend­ing night school at UVA and com­plet­ing anoth­er bar­rage of cor­re­spon­dence cours­es, Dad was ordained as a full-fledged min­is­ter. He served six church­es over a twen­ty-five year career. In his late six­ties, he tried to retire, but it didn't take. He vol­un­teered to pas­tor a church that couldn't afford a full-time min­is­ter and preached there for almost a decade. In his eight­ies, he asked for an appoint­ment clos­er to his home. They gave him a lit­tle church in its death throes, its con­gre­ga­tion down to about ten stal­warts. He revived it, build­ing it up to 50 reg­u­lar atten­dees.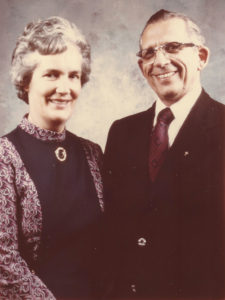 He had a stroke when he was 86. One month lat­er, he returned to the lit­tle church's pul­pit, this time in a wheel chair, and Chris­t­ian-sol­diered on until old age broke him down.
No longer able to preach and bed-rid­den, he told us he was ready to go to heav­en.
I sat by his bed, and we talked about old times. "How did you do it?" I asked him. "How did you over­come all the obsta­cles?"
He paused for a long time. "Deter­mi­na­tion," he said. Papaw's Willy, I thought. "And my Faith."
He slept almost all the time his last few days. The hos­pice lady said he was prepar­ing to die. Mom rolled her wheel­chair up to his bed and took his hand. "It's okay, Tom­my. You can go on now." I don't know if he heard her, but he let go soon after that.
Four Methodist min­is­ters preached at his funer­al. We sang In the Gar­den, his favorite hymn. Its stan­zas are about walk­ing and talk­ing with Jesus in a rose gar­den. One of the many Methodist preach­ers Dad had shep­herd­ed into the min­istry end­ed the funer­al ser­vice by say­ing that Dad had been walk­ing and talk­ing with Jesus those last days when he was asleep. "When they'd walked a long way up the road," he said, "Jesus told Tom­my, 'You know, my place is clos­er than yours. Let's just go on up there togeth­er.'"
If heav­en is a place where your dreams are ful­filled, I know what my dad's doing right now. There's a lit­tle coun­try church with sun­light com­ing through stained glass win­dows to paint rain­bow col­ors on the pine pews. The sanc­tu­ary is full. Mom's play­ing a hymn on the piano. When the singing's done, she moves from the
piano bench to the front pew and sits beside me and my broth­ers, all dressed in our Sun­day best.
Dad stands and takes his place at the pul­pit, back straight, voice strong.
Rest in Peace, Dad.