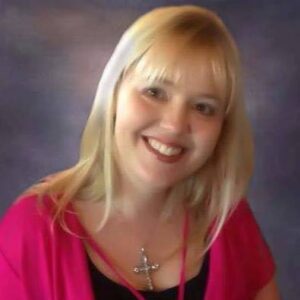 Bob­bye Marrs, a world-class pub­lish­ing assis­tant, talked me into writ­ing a month­ly blog five years ago. She pitched the idea while we sat in a cor­ner of Eric and Pamela Hutchins' home in Texas at a writ­ers' con­fer­ence. "It sounds like a lot of work," I said. "What pur­pose does it serve?"
She said a peri­od­ic newslet­ter with a blog post could help build the read­er­ship for my nov­els. I didn't want to do it, but she per­sist­ed, drag­ging ideas out of me while I did my best to remain stuck in the mud.
When Pamela joined our table and asked how we were pro­gress­ing, I intend­ed to say, "No way I'm going to waste time and ener­gy on a blog," but Bob­bye beat me to the punch. "He's got plen­ty of mate­r­i­al. Thoughts about writ­ing. Sto­ries about his fam­i­ly. Fun­ny times with his dogs. He should def­i­nite­ly give it a try."
"It'll take too much time," I grumped. "I can't write nov­els if I have to churn out an essay every week."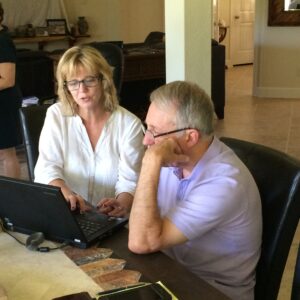 "So don't write every week," Bob­bye said. "Write one post a month or when­ev­er you feel like it. Why not give it a try? See how it goes?"
I con­tin­ued to resist, but Pamela and Bob­bye kept at it until I agreed to write a few draft blog posts. An exper­i­ment in futil­i­ty, I told myself while I sat at the com­put­er bang­ing out three short works. I wasn't impressed with what I wrote. "I don't know if I'm cut out for this," I said in an email to Bob­bye, attach­ing Swanie, Dog Days, and What's in a Name. "These seem corny to me."
Know­ing she need­ed rein­force­ments to break open my closed mind, Bob­bye sent my drafts to SkipJack's social media guru, Abbey Road. "She's not afraid to say what's on her mind," Bob­bye told me, "and she's been doing this kind of thing suc­cess­ful­ly for a long time so I know we'll get an hon­est eval­u­a­tion from her."
My expec­ta­tions were low, so as Bob­bye had planned, I was bowled over when I got Abbey's feed­back. "Bob­bye, these are WON­DER­FUL blogs. I could read these all day. They are per­fect. Please tell Ken not to feel 'corny.' Tell him to run free. This is what blogs are sup­posed to be. Good short sto­ries. Real life hap­pen­ings and rec­ol­lec­tions. Pub­lish these. Just put it out there and keep going."
They say flat­tery goes a long way with those who have small minds and big egos. I don't know any­thing about that, but all of a sud­den, this blog­ging busi­ness seemed like a great idea. We put those first three works out there and kept going, rolling out one a month for the next four years.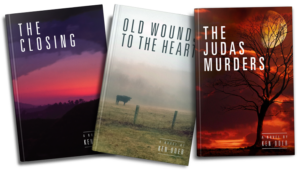 The orig­i­nal con­cept was that I would write about the craft of cre­at­ing a nov­el, but I soon dis­cov­ered I don't have much to offer on that sub­ject. My "process" is mad­den­ing­ly chaot­ic. I write a huge vol­ume of unpub­lish­able blath­er, cull out the few coher­ent pas­sages, revise them end­less­ly, and throw away most of the rewrites. When I'm on the verge of jump­ing off a tall build­ing in frus­tra­tion, a sto­ry some­times steps out of the fog of con­fu­sion and grabs me by the throat and the writ­ing begins to flow. I don't under­stand it; I wouldn't wish it on any­one; and I sure as hell don't want to write about it.
Cast­ing around for a dif­fer­ent approach, I exper­i­ment­ed with short non­fic­tion pieces about my past. They were fun to write and they received a pos­i­tive reac­tion from read­ers. So I stayed with that. Hit­ting my stride after a few months, I found myself revis­it­ing events in my life going all the way back to my ear­li­est mem­o­ries, turn­ing them over in my mind, weigh­ing their mean­ing, and under­stand­ing them much more deeply than I did when I lived through them. From encoun­ters with inter­est­ing peo­ple like Muham­mad Ali, Pres­i­dent Clin­ton, Anna Ander­son, who claimed to be the daugh­ter of the Tsar of Rus­sia, and Harold Swan­son, Hollywood's first lit­er­ary agent, to com­ing to grips with life and death deci­sions, the trau­ma of aging, the heart­break of demen­tia, sur­vival dur­ing a pan­dem­ic, and rep­re­sent­ing a death row defen­dant, my month­ly writ­ing jour­ney spanned the emo­tion­al spec­trum and became enor­mous­ly impor­tant to me.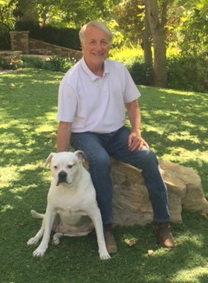 Mean­while, Bob­bye made it easy to pub­lish my sto­ries. She set up my web­site in its cur­rent form and main­tains it. She rides herd on the weird dudes in Lon­don, who fight off the Russ­ian bots, spam jock­eys, and ubiq­ui­tous hack­ers deter­mined to sad­dle my posts with links to porn, pay­day loans, bit­coin traders, Via­gra ven­dors, pho­ny casi­nos, a young woman named Kristi­na who's search­ing for a sug­ar dad­dy, and a host of oth­er scam artists. She proof­reads the Word doc­u­ment I send her every month for typos and con­tent, syn­the­sizes it with pho­tos, and cre­ates the pre­sen­ta­tion you find on my website's blog page. She pre­pares the for­mat and pro­mo­tion­al pitch­es for my newslet­ter, main­tains its mail­ing list, dis­trib­utes it, and for­wards all the read­ers' com­ments to me. I'm tech­no­log­i­cal­ly incom­pe­tent, so when I do some­thing that fouls up the entire web­site, she some­how straight­ens it out, cre­at­ing order out of ram­pant chaos.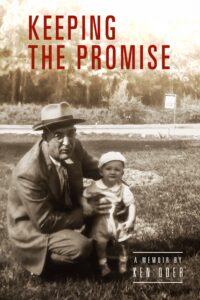 Keep­ing the Promise is the result of our part­ner­ship, a col­lec­tion of my first fifty blog posts, a series of non-fic­tion short sto­ries in the nature of an episod­ic mem­oir pre­sent­ed out of chrono­log­i­cal order and grouped under the head­ings Mile­stones, Inter­est­ing Peo­ple I've Met Along the Way, Growth From Adver­si­ty, Mur­der Most Foul, Faith­ful Com­pan­ions, and On Writ­ing. The book's title is tak­en from a post about my grand­fa­ther pub­lished in May 2020, in the ear­ly days of the cur­rent pan­dem­ic. A short time before he passed away, he asked me to promise him I'd always try hard at every­thing I did. I made the promise, although I wasn't sure I would keep it, and I haven't always lived up to it in the fifty years that fol­lowed. These posts recall events on both sides of that ledger. The blog post, Keep­ing the Promise, leads them off because it gives you a good sense of the posts that fol­low and because I kept my promise with each essay and tried my best.
Since we orig­i­nal­ly pub­lished the sto­ries on my blog for free, I hoped to offer this col­lec­tion for free as well. Cur­rent­ly, the ebook is avail­able for free on Ama­zon, Nook, Apple, Kobo, and Google Play. Although I've waived the roy­al­ties, at some point these sites will like­ly insist on charg­ing a trans­fer­ence fee, so if you want a free ebook, down­load it soon. With the paper­back, the $6.99 charge is the low­est price we could nego­ti­ate with the printer.
Writ­ing these sto­ries took me back in time and gave me new per­spec­tives on the art of liv­ing a long life. They made me laugh and they made me cry, some­times in the same breath. If you read Keep­ing The Promise all the way through, you'll know me bet­ter when you fin­ish than I knew myself when I start­ed writ­ing it. No guar­an­tee that's a good thing for either one of us, but hey, in your case at least you get a free book.